Meryl Streep Profile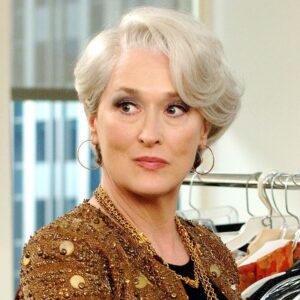 In the dazzling constellation of Hollywood stars, one name shines as bright and brilliant as the North Star: Meryl Streep. With a career spanning decades and an exceptional repertoire of performances, Streep has cemented her position as one of the greatest actresses of her generation. Her astounding talent, versatility, and dedication to her craft have earned her a multitude of accolades and a devoted global fanbase. Let's delve into the life and career of this extraordinary actress whose brilliance graces both the stage and the silver screen.
Early Life and Education:
Born on June 22, 1949, in Summit, New Jersey, Mary Louise Streep (known as Meryl) was destined for greatness. Raised in a close-knit family, Streep displayed an early passion for the arts, which was nurtured by her parents, who encouraged her creativity. After completing high school, she attended Vassar College and later transferred to the Yale School of Drama, where she honed her acting skills and developed a profound understanding of the craft that would later become her defining trait.
Emergence as an Acting Sensation:
Meryl Streep's journey to stardom began with her work on the New York stage during the 1970s. She swiftly established herself as a force to be reckoned with, delivering memorable performances in productions like "The Cherry Orchard" and "The Taming of the Shrew." Her exceptional talents did not go unnoticed, and soon, Hollywood came calling.
Breakthrough on the Silver Screen:
Streep's big-screen debut came in 1977 with the film "Julia," where her supporting role garnered critical acclaim. However, it was her captivating portrayal of a troubled Holocaust survivor in "Sophie's Choice" (1982) that catapulted her to international fame. The role earned her the first of her many Academy Awards and cemented her status as an acting virtuoso.
Versatility and Mastery:
One of the remarkable facets of Streep's career is her extraordinary versatility. Whether it's tackling historical figures like Margaret Thatcher in "The Iron Lady" (2011), bringing musical characters to life in "Mamma Mia!" (2008) and "Into the Woods" (2014), or displaying her comedic chops in "The Devil Wears Prada" (2006), Streep effortlessly embodies each role, making her a director's dream and an audience favorite.
Championing Social Causes:
Beyond her extraordinary talent, Meryl Streep is also known for her advocacy and activism. Throughout her career, she has been an outspoken advocate for various social and environmental causes. Her impassioned speeches and dedication to making a difference have earned her admiration from fans and peers alike.
Legacy and Influence:
As the years pass, Meryl Streep's legacy only grows stronger. Her enduring influence on the acting world is evident in the countless young actors who look up to her as a role model. Her dedication to her craft and willingness to push the boundaries of her abilities have set an example for aspiring artists everywhere.
Conclusion:
Meryl Streep's name is etched in the annals of Hollywood history, and rightfully so. With her unparalleled talent, impeccable range, and unwavering commitment to her beliefs, she remains an inspiration for generations of actors to come. As she continues to grace screens and stages around the world, audiences can expect nothing less than brilliance from the timeless queen of the silver screen.