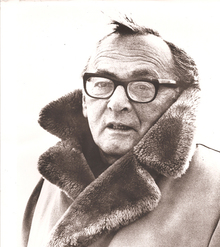 "To be an interesting actor – hell, to be an interesting human being – you must be authentic and for you to be authentic you must embrace who you really are, warts and all. Do you have any idea how liberating it is to not care what people think about you? Well, that's what we're here to do."
(Sanford Meisner)
This quote from Sanford Meisner is an example of his obsession with spontaneity and authenticity, when it comes to an actor's performance. Getting actors to be more authentic, to "live truthfully under imaginary circumstances", became the main rift that separated him from the teachings of acting theorists like Lee Strasberg and his brand of Method Acting.
Meisner would go on to build his own training method around spontaneity, getting actors "out of their heads" and honing their improvisation skills before focusing on the dramatic text and scene study.
________________________________________________________________________________________________
Brief Bio
Sanford Meisner (August 31, 1905 – February 2, 1997), known affectionately as 'Sandy', was a legendary acting teacher, and occasional actor. He was one of the original actors who formed the famous Group Theatre, along with other legendary acting theorists like Lee Strasberg and Stella Adler.
While at Group Theatre, Meisner began to resist some of the teachings of Lee Strasberg, particularly his focus on the technique known as Affective Memory. He would eventually branch out from Strasberg's tutelage to develop his own series of acting techniques, which built on the work of Konstantin Stanislavski and his "system".
Meisner's series of acting techniques would later become known as the "Meisner Technique".
________________________________________________________________________________________________
You Might Also Like:
7 Basic Facts about Konstantin Stanislavski
5 Basic Facts about Lee Strasberg
5 Basic Facts about Method Acting
________________________________________________________________________________________________