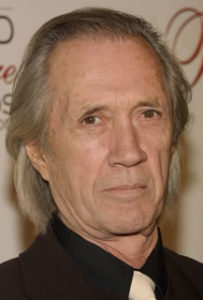 Acting Quote:
"The problem is not that acting is hard. The problem is that there are over 100,000 members of SAG-AFTRA, and only hundreds of jobs"
(David Carradine)
(The late David Carradine points out the reason why a successful acting career often proves elusive for many actors. Work is sporadic for most actors because the level of competition, especially for major markets, is extremely high. Hundreds of actors competing for each role creates winners and losers, or rather one winner and many losers. Those who lose out for an acting role must muster the patience and perseverance to look for and compete for the next available job opportunity.)
_____________________________________________________________________________________
Brief Bio
The late David Carradine is a Golden Globe and Emmy Award nominated actor and martial artist, who appeared in over 100 films over a career that spanned more than six decades. Carradine was best known for his role as Kwai Chang Caine, the peace-loving Shaolin monk on the 1970's television series, Kung Fu. His most recent notoriety came for his role as Bill, in the Quentin Tarantino film Kill Bill: Volume 2, which earned him a Saturn Award for Best Supporting Actor.
Carradine passed away on June 3, 2009, due to a fatal autoerotic asphyxiation accident. He was 72.