Don't Audition to Get the Job
Bryan Cranston shares the audition epiphany that changed his acting career
(Arranged by AM Staff)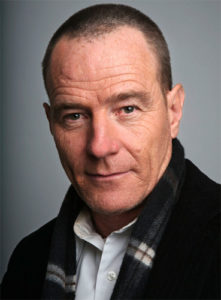 According to Primetime Emmy Award-winner Bryan Cranston, best-known for his role as Walter White on the A&E Drama, Breaking Bad, actors should not go into an audition focused solely on winning the job.
Instead, he insisted in a recent interview, actors should simply view the audition as an opportunity to present their craft, a craft that they have meticulously developed and are proud to put on display.
---
RELATED
"You have to detach yourself from the result" (Constance Wu)
---
Afterward, the actor should walk away, unconcerned about who gets the job.
Cranston says that, once he realized this basic principle, his career took off.
Said Cranston:

"I had this cognition that I realized I was going into auditions, trying to get a job. And that simply wasn't what I was supposed to be doing."
---
"Once I adopted that philosophy, I never looked back. And I've never been busier in my life."
(Bryan Cranston)
---
While an audition is technically an actor's job interview, concentrating on acquiring employment, rather than focusing on displaying your craft in an exceptional way, is a big mistake, according to Cranston.
"An actor is supposed to create a compelling, interesting character, that serves the text. You present it in the environment where your audition happens. And then you walk away. And that's it. Everything else is out of your control. Don't even think about it. Don't focus on that."
The actor has little control, and sometimes little knowledge of, things like height requirements, weight preferences, the chemistry between various actors, profile preferences, the competition, the industry connections some competing actors might have, script changes; all the different elements that can factor into the casting of an actor. This lack of control is what makes auditioning, solely for the purpose of getting a job, a fool's errand.
"You're not going there to get a job. You are going there to present what you do. You act. And there it is. And walk away."
Cranston continued:
"And there's power in that. And there's confidence in that. And it's also saying, I can only do so much. And then, the decision of who might get a job is so out of your control, that, really when you analyze it, it makes no sense to hold onto that."
It was this revelation, this epiphany, that, according to Cranston, helped take his acting career to new heights.
"That, to me, was a breakthrough. And, once I adopted that philosophy, I never looked back. And I've never been busier in my life, than once I grabbed onto that. That's it!"

---
You Might Also Like:
Morgan Freeman's Advice to Actors
---