Today's Trivia Answer:
Silence of the Lambs

In February, 1991, Silence of the Lambs premiered. The film, produced on a modest budget of $19 million, went on to gross more than $250 million world-wide. Based on a novel of the same name by author, Thomas Harris, the film would go on to win 5 Academy Awards in all the top categories, including Best Picture, Best Adapted Screenplay, Best Actor (Anthony Hopkins), Best Actress (Jodie Foster), and Best Director (Jonathan Deeme).
Silence of the Lambs starred Jodie Foster as FBI trainee Clarice Starling, who seeks the help of Hannibal Lecter (Anthony Hopkins), as she pursues a serial killer nicknamed "Buffalo Bill". Lecter, a cunning cannibal and serial killer, who resided in a mental hospital for the criminally insane, offers his assistance in exchange for personal information from Starling. Lecter begins to offer clues about "Buffalo Bill" as Starling begins to reveal details of her life, including a childhood memory that she carries of a time when she was awakened to the sound of lambs being slaughtered.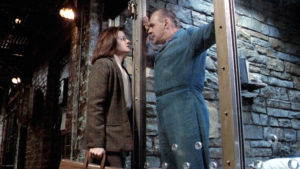 ________________________________________________________________________________