Trivia Answer:
Ocean's eleven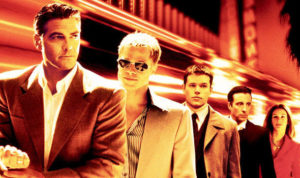 On this day, in 2001, Ocean's Eleven premiered. The film starred George Clooney as Danny Ocean, an ex-con who has recently been paroled. Now on the outside, he links up with Rusty Ryan (Brad Pitt), his partner-in-crime. Together, the two men set an ambitious plan into action: burglarize a casino owned by the ruthless, Terry Benedict, and make out with over $100 million. Ocean also hopes to make off with another prize: his wife, Tess (Julia Roberts), who has been dating Benedict since Ocean went to prison.
To rob the casino, Danny and Rusty enlist the help of a wealthy former casino owner, along with eight criminals who specialize in areas like explosives, mechanics, surveillance and acrobatics. They also add newcomer Linus Caldwell (Matt Damon).
The film was very well received at the box office. It earned $450 million, on a budget of only $85 million. And it spawned a film series that included Ocean's Twelve, Ocean's Thirteen and Ocean's 8 (2018), which featured an all-female cast, starring Sandra Bullock.