5 Basic Facts About Sanford Meisner
Though he died in 1997, his work continues to live on…
(by Carmichael Phillips)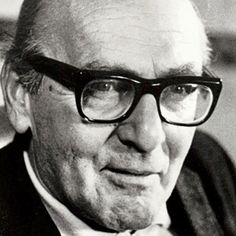 Sanford Meisner (August 31, 1905 – February 2, 1997) had a profound impact on the way actors approach acting. His work revolutionized the craft and offered actors a fresh, new method for bringing characters to life.
They called him "Sandy", the oldest child of Jewish immigrants from Hungary, who settled in Brooklyn, New York. While he had always had an interest in the performing arts, early jobs working as an extra would solidify his love for acting.
He heeded his calling and, eventually, left an indelible mark on the many famous and aspiring actors who followed his teachings.
Here are five basic facts about Sanford Meisner:
#1: Meisner's early life was shaped by tragedy
Sanford Meisner's life was to be forever shaped by the tragic loss of his brother, Jacob. While on a family trip, his brother drank some unpasteurized milk and died shortly after contracting tuberculosis. Meisner would come to blame himself for the tragedy. He later recounted that the incident was the "dominant emotional influence" of his life.
---
What is the Meisner Technique?
---
He became more and more withdrawn, but found an outlet in the performing arts. He first came to love music and studied to become a concert pianist. His love of performing eventually moved to acting.
#2: Meisner was one of the original actors at Group Theatre
Meisner's initial interest in the craft of acting deepened when he earned a scholarship to study at the Theatre Guild of Acting. It was there where he encountered other actors who, like himself, would become some of the most influential acting theorists in history, including Harold Clurman and Lee Strasberg.
When Clurman, Strasberg and another actor, Cheryl Crawford, formed Group Theatre in 1931, Meisner and other talented actors, like Stella Adler, joined them. Group Theatre went on to become arguably the most influential theatre company in American history.
#3: Meisner clashes with Lee Strasberg

Meisner's own legend began with a disagreement between he and Lee Strasberg. Strasberg believed the "golden key" to acting involved a controversial technique called "Affective Memory", which called upon actors to delve into their personal life experiences and summon the emotions from those experiences for use in their characters.
Meisner, and other actors in Group Theatre, including Stella Adler, began to reject this approach. It led Adler to seek the council of the technique's creator, Konstantin Stanislavski, who, she learned, had also come to reject this approach.
The conflict led Meisner to experiment with techniques of his own.
#4: Meisner created the Meisner Technique
After repeated clashes with Lee Strasberg, and the disbandment of Group Theatre in 1940, Meisner turned his attention to teaching the craft at the Neighborhood Playhouse in New York. There, drawing from the work of Stanislavski, Strasberg and others, he began to experiment and develop his own style and collection of acting techniques.
---
"

Acting is behaving truthfully under imaginary circumstances.

"
(Sanford Meisner)
---
Meisner's new approach would come to be known as the Meisner Technique, a collection of exercises designed to get actors "out of their heads", acting on their instincts and focusing on their scene partner(s), rather than focusing primarily on emotions they experienced from their past.
#5: Meisner influenced many famous actors
Sanford Meisner continued to teach actors his techniques until his death in 1997. Yet, while he died, his influence lived on. And his techniques continue to be taught in the United States and around the world.
You can see Meisner's impact on full display in the work of many well-known actors, like:
*David Mamet
*Tom Cruise
*Robert Duvall
*James Caan
*Connie Britton
*Jeff Goldblum
*Christoph Waltz
*Alec Baldwin
*Sandra Bullock
*Jon Voight
---
You Might Also Like:
5 Basic Facts about Lee Strasberg
---