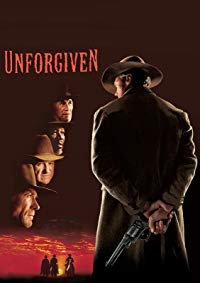 On August 7, 1992, Clint Eastwood's Unforgiven premieres in the US
_____________________________________________________________________________________
Clint Eastwood directs, produces and stars as William Munny. Munny, a reformed killer turned pig farmer, is now a widower raising two children. He has long retired his gun and has sworn off alcohol. His farm, however, has fallen on hard times, and is now in jeopardy.
When a prostitute's face is disfigured by one of her customers, after laughing aloud about the size of his penis, Munny is presented with a proposition: kill the cowboys, Quick Mike and "Davey-Boy" Bunting, who are responsible for the crime. Munny eventually accepts the task and begins what he hopes will be his last contract killing.
The film featured a star-studded cast, including, Gene Hackman and Morgan Freeman, along with Eastwood. The film was nominated for four Academy Awards, including Best Picture and Best Director (Eastwood), Best Supporting Actor (Hackman) and Best Film Editing (Joel Cox). The critically-acclaimed film was also added to the National Film Registry of the Library of Congress.