5 Basic Facts About Uta Hagen 
"If you want a bourgeois existence, you shouldn't be an actor"
(by Tonya Tannenbaum)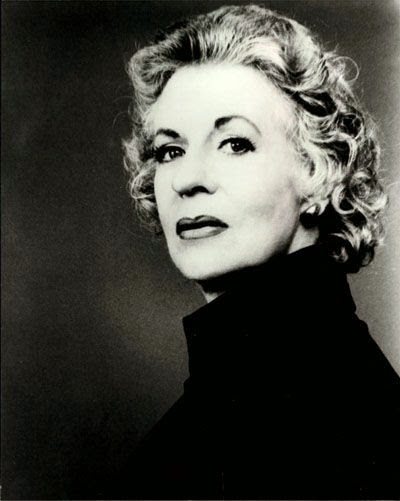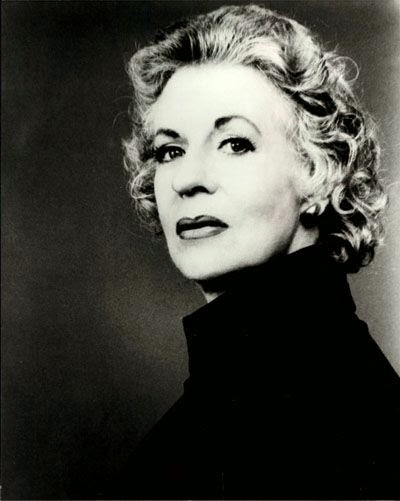 Uta Hagen was an American who rose to prominence, first as a successful actress and, later, as an influential acting teacher and theorist. She authored best-selling books and was elected to the American Theater Hall of Fame.
Here are 5 basic facts about Uta Hagen:
#1: Hagen Fell in Love with Acting at a Young Age
Originally born in Germany in June 1919, Hagen and her family emigrated to the United States in 1924 and eventually settled in Wisconsin. It was at the University of Wisconsin High School where Hagen's love for acting took flight.
She began performing in plays at school and in other local productions outside of school. Later, Hagen traveled to London to study briefly at the Royal Academy of Dramatic Art, before moving to New York to begin a professional acting career.
#2: Hagen Became a Highly Successful Actress 
Uta Hagen would go on to become a highly successful and accomplished actress, in her day. And she did so, starting at a very early age, performing in Anton Chekov's The Seagul on Broadway at age 18.
---
"It's not about losing yourself in the role. It's about finding yourself in the role."
(Uta Hagen) 
---
Numerous roles would follow, including in Othello and A Streetcar Named Desire. She won her first Tony Award for playing Georgie in Clifford Odets' The Country Girl. She won a second Tony for playing Martha in Edward Albee's Who's Afraid of Virginia Woolf?
In all, Hagen was awarded three Tony Awards in her career, including a Special Lifetime Achievement Tony Award in 1999.
#3: Hagen Was Blacklisted from Hollywood
During the height of the Cold War, many actors and entertainment industry professionals who had Communist ties, or even suspected Communist sympathies, were blacklisted. Though there was never any official blacklist with written names, some actors were, nonetheless, put on a virtual blacklist and, were denied employment opportunities.
---
"If you want a bourgeois existence, you shouldn't be an actor. You're in the wrong profession."
(Uta Hagen) 
---
Hagen, thanks in part to her close association with actor, Paul Robeson, a known Communist sympathizer and critic of American foreign policy, brought her considerable trouble.
Her status on Hollywood's unofficial blacklist kept Hagen's big screen career from flourishing. But she did manage to find success in Hollywood later in her career, particularly on television.
She landed a role on the daytime soap opera, One Life to Live, and was nominated for a Daytime Emmy Award for Outstanding Supporting Actress in a Drama Series.
#4: Uta Hagen Was an Influential Acting Teacher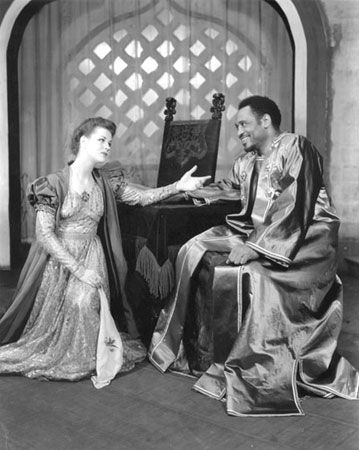 (Uta Hagen in Othello)
Uta Hagen transferred her success as an actress into success as an acting teacher. She eventually became one of the most influential acting teachers of her era.
Hagen dutifully taught at New York's Herbert Berghof Studio. Her list of famous pupils is quite long and extensive, and includes Matthew Broderick, Whoopi Goldberg, Al Pacino, Sigourney Weaver and Amanda Peet, just to name a few.
#5: Hagen Was a Best-Selling Author
Hagen also authored best-selling books on acting, including:
*Respect for Acting (1973) – which was a textbook for use in acting classes that emphasized, among other things, the use of the Substitution Technique, when formulating characters.
*Challenge for the Actor (1991) – the follow-up to Respect for Acting, where she renames Substitution, now calling it "Transference", encouraging actors to draw from thoughts and feelings from their past and to activate them through their actions.
---
"We must overcome the notion that we must be regular… it robs you of the chance to be extraordinary and leads you to the mediocre."
(Uta Hagen) 
---
Uta Hagen was elected to the American Theater Hall of Fame in 1981. She died on January 14, 2004, after suffering a stroke in 2001.
---
You Might Also Like:
5 Basic Facts About Stella Adler
---